$1.00 Reading Program beats $100,000 bachelor degree!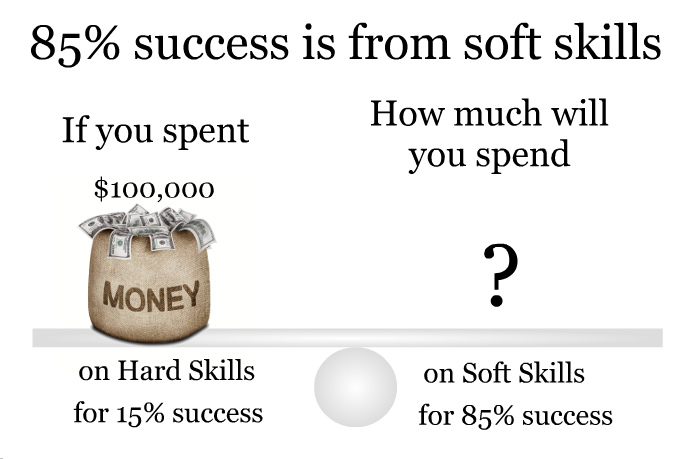 (Reference: 85% success research results was conducted over a 20-year period provided by the Carnegie Institute, Stanford University School of Business and Harvard Business School. Research results also mentioned in
Forbes
Magazine Apr12,2012, and
Aspiring to Leadership: Technical Knowledge vs. People Skills
by Dr. Jim Murray, Institute of Chartered Accountants of Ontario, Canada)
That is, if you spent $100,000 on getting your bachelor degree, how much would you spend on soft skills?

You can spend $1.00 a day for 85% success, OR $100,000 on a bachelor degree for 15% success.


Why a degree is not as important as before?
Some big companies are already eliminating degree requirement in their hiring process.

1.) PricewaterhouseCoopers Is Scrapping UCAS Points As Entry Criteria For Graduate Jobs
http://www.huffingtonpost.co.uk/2015/05/01/pwc-scrap-ucas-points-entry-criteria-graduate-jobs_n_7189936.html


2.) Ernst & Young Removes Degree Classification From Entry Criteria As There's 'No Evidence' University Equals Success

"...It found no evidence to conclude that previous success in higher education correlated with future success in subsequent professional qualifications undertaken."

http://www.huffingtonpost.co.uk/2016/01/07/ernst-and-young-removes-degree-classification-entry-criteria_n_7932590.html


3.) Google, Hilton, Apple, Starbucks, IBM
Google, Penguin Random House, Costco Wholesale, Whole Foods, Hilton Hotels, Publix Supermarkets, Apple Computers, Starbucks Coffee, Nordstrom Department Stores, Home Depot Hardware, IBM, Bank of America, Chipotle Mexican Food, and many others are joining PricewaterhouseCoopers (PwC) and Ernst & Young (EY) in putting focus on soft skills rather than a university degree to decide on who to hire. https://www.cnbc.com/2018/08/16/15-companies-that-no-longer-require-employees-to-have-a-college-degree.html




Earning power between those with soft skills vs. those not

World Bank said 30% more earning between those with soft skills vs. those who don't.
http://blogs.worldbank.org/impactevaluations/hard-measurement-soft-skills



Jack Ma says "Learn soft skills!"

Jack Ma said people cannot compete with machines in the future, nor should they. People must excel in soft skills in order to survive. IITTI's World Civility Index is a global standard in measuring soft skills, so get your digital credentials from it. Let's accumulate your personal World Civility Index points over time.
Video: https://www.facebook.com/worldeconomicforum/videos/10155081394521479/