This Exam Logistics is a short guide to help trainers follow the correct procedure for online testing.
Step 1. As a Trainer
If you wish to enter your students to take the IITTI exam, each student needs to have an exam pass. (1) Students can either buy it themselves, or (2) you can buy it for them.
If you are an AICI member, you qualify for a discount. Look at the discount schedule: IITTI Discount for AICI Members
If you are not an AICI member, but will buy for your students, go to: Volume payment
The exam passes will be emailed to you, and you can print them out and distribute them to your students. Here is a sample: Sample exam passes (13 passes in this example)
Help your students arrange for a test centre by contacting one of the IITTI testing centres at:

Details > Test Centres
Please note that as a trainer, your facility may qualify as a testing centre under the following conditions:
It is large enough to hold the group comfortably
Desks are spaced apart
Students have access to computers and the internet
You are able to take a video of the complete exam session for security purposes
As an Associate
If you wish to qualify as an IITTI Associate, you will need to buy an exam pass and take the exam yourself.
(Note: You don't need to be an IITTI Associate in order to use IITTI, as IITTI is an open standard for all training professionals. IITTI Associates are strictly volunteers who help to promote the IITTI cause.)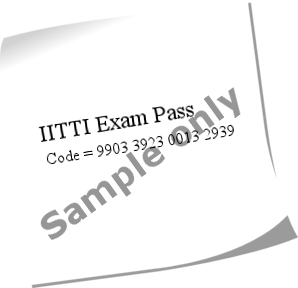 Step 2. For Your Students
(Note: If students are buying exam passes themselves, ask them to follow the steps in the Student Manual.)
(1) Open an account by visiting the "Test Takers" area at: Get new account
(2) Ask students to enter their exam codes on their exam passes under "Enter exam code". They are now ready to take the exam.
(3) When students are in the exam room:
Log into their student accounts and go to "Exam Area".
Click on "Add Exam" and select the exam with the correct exam ID.
Enter the exam password.
Exam ID and exam password will be supplied by the proctor right before the exam session.
Step 3. As a Proctor
On the day of the exam, the proctor has duties that are specified in the Exam Proctoring Manual under the "Proctor Area".
(1) Before the exam, make sure students had enter their exam passes into their account!
(2) Right before the exam, contact IITTI headquarters via email (info@IITTI.org) or phone (1-604-231-8197) to get the exam ID and exam password.
This pair of identification allows the students to enroll into the correct exam.
During exam, if required, the proctor has to take video of the complete exam session (1 hour) for security measure.