Step 1. Use HR job ads as advertisement

Collected from Part 1 above, now you can use HR job ads as your own advertisement for your public workshops to train job seekers (and college students) in order to help them get their IITTI certification.

The job ads show why soft skills certification is relevant.

Here is the complete cycle:
When employers want IITTI, job-seekers will act!

Step 2. Conduct your public workshops

Note that there are two groups that are very similar: job-seekers and college students. Your public workshops can serve both at the same time.

Tip: You may want to partner up with some big training companies; they have the marketing reach that can prove to be win-win. (See examples, Jessie Lin Brown in Taiwan, May Chan in Hong Kong, Carolina Tan in the Philippines.)


Step 3. Use IITTI cellphone learning to build long-term relationship

An effective way to continuously engage your audience is through a 'blended learning' approach; that is, the use of classroom face-to-face mixed with IITTI cellphone learning.

For example, for business application:


The IITTI cellphone learning is a form of informal learning or micro-learning, and serves as an awareness reminder, leading the users to consider taking more formal, classroom training from you.

Similar to the IITTI formal exams, IITTI cellphone lessons are compiled by a global group of image consultants. The lessons are delivered once a week via an email to subscribers. Users just click on the email to watch a 5-minute lesson, answer a multiple-choice question, and earn one (1) 'World Civility Index' point. There is no limit as to how many lessons a user can take.

(Details: IITTI exam structure, World Civility Index.)

Why is IITTI Cellphone Learning effective?

Dr. Albert Bandura, psychologist at Stanford University, amongst others, found that most complex human behavior is learned observationally. A 3-hour lecture on empathy may not do as much as a 5-minute video.

The benefit is that this can be done on the employees' own time, and fits the busy lifestyle of employees. It is like going to the gym where, over time, you will see results.

So this is the IITTI Cellphone Learning methodology: Deliver training via email about complex behavior in short videos on a weekly basis.

Frequently, IITTI cellphone lessons are sold through 'IITTI cellphone subscription cards'.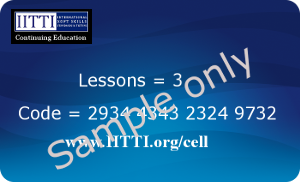 Users can buy these cards from you, and you can generate passive income.

A new convenience now is that users can pay directly online via PayPal, once they log in. And you can make passive income just the same.

To work with us, we give you your own permanent, special link that you can put on your social media and website, or give it to your company clients.

For example, see how IITTI is working with Dr. Joyce Knudsen, AICI CIM with her special link www.IITTI.org/DrJoyce.

Contact Patrick Chun at IITTI (pchun@IITTI.org) for your permanent special link.

Tip 1: Now you can deliver free seminars to job fairs and universities, and still get passive income from cellphone learning when you show students your special link!

Tip 2: Offer your corporate clients your facilitation service once a month to keep interests high.


Interested in advanced marketing idea?